Food safety has long been seen as the guiding star for the behaviours of food industry staff. A high rating from the local health department is often the first greeting that meets a customer at the entrance. These signs quickly provide customers with a sense of trust in the establishment – and it is up to the leadership and staff to continue to meet their expectations. Safe food handling practices may earn a business a "Great" safety rating, but attention to environmental safety will secure customer trust and loyalty.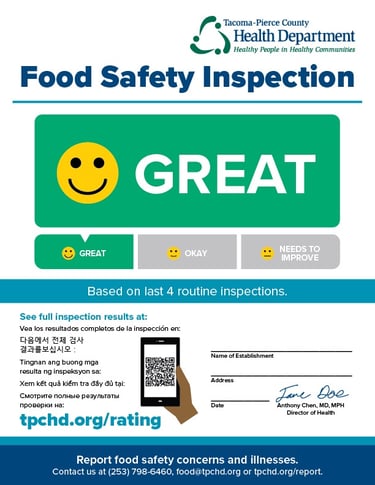 Cleaning and sanitizing have always gone hand-in-(gloved) hand when it comes to food safety techniques. Food handlers know well that food contact surfaces must be cleaned after any usage, before working with a different type of food, and after four hours of continuous use. These and other food safety rules are a part of the standard of excellence the hospitality industry has adhered to for decades and their protocols fit into a well-oiled operation.
Cleaning, disinfecting, and sanitization became front and center to every conversation as the world squared off with sickness, anxiety, and uncertainty. While these are essential terms to understand and habits to maintain, Trust20 challenges the food service industry to expand their definition of safety.
Before the pandemic, a retail food establishment could simply post their passing scores from their last health department inspection and consumers would put faith in that business' efforts to protect them. The expectations of those same consumers have drastically changed and there is a full spectrum of comfort levels across every consumer demographic. Although 71% of adults in the US reported to Morning Consult they are comfortable with dining out, 77% of adults feel most comfortable with dining outdoors, rather than inside.
You know, everyone has a different comfort level. I personally like seeing indicators of 'cleanliness' – signs on the table that it's been cleaned, visibly seeing staff clean a table after someone has left, hand sanitizing station, paper towels and trash cans by bathroom doors so you can have the least amount of 'contact'. A lot has happened in the last year and I don't want to see restaurants abandon the visible habits that make me and other guests more at ease.
While the Centers for Disease Control have discouraged the practice of "hygiene theater," there is something to be said about providing consumers with transparency about the food handling and space cleaning practices a business follows. When it comes to creating safe, healthy, and welcoming spaces there is no such thing as too much action or communication. Not only will it help maintain stellar food safety practices, but it also promotes good customer service and an ambiance that makes people want to come back.
Ultimately, the need for sanitation and cleanliness has not changed. The food service industry is still finding its footing after the events of 2020, even as we stare down 2022. The lessons learned should continue to disrupt "normal" business operations in pursuit of a definition of safety that includes food handling practices, environmental considerations, and mutual respect across all interpersonal interactions.