Food safety has long been the north star that guides the behavior of the foodservice industry, and many establishments boast about their high health department ratings with signs posted at the main entrance. These signs quickly provide customers with a sense of trust in the establishment–and it is up to the entire team to continue to meet their customers' expectations. Safe food handling practices may earn a business a "Great" safety rating, but attention to environmental safety will also help to secure customer trust and loyalty.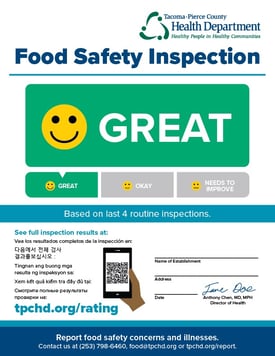 Cleaning and sanitizing have always gone hand-in-(gloved)hand when it comes to food safety techniques. Food handlers know well that food contact surfaces must be cleaned after any usage, before working with a different type of food, and after four hours of continuous use.1 These and other food safety rules are a part of the standard of excellence the hospitality industry has adhered to for decades, and their protocols fit into a well-oiled operation.
Cleaning, disinfecting, and sanitization became front and center of every conversation as the world squared off with sickness, anxiety, and uncertainty. While these are essential terms to understand and habits to maintain, Trust20 challenges the foodservice industry to expand its definition of safety.
How the Pandemic Changed Our Perceptions of "Safe" Dining
Before the pandemic, a retail food establishment could simply post their passing scores from their last health department inspection, and consumers would put faith in that business' efforts to protect them. The expectations of those same consumers have drastically changed, and there is a full spectrum of comfort levels across every consumer demographic.
In 2021, only 71% of adults in the US reported to Morning Consult that they are comfortable with dining out.2 Now, in 2023, that number is much higher-about 77%. We're getting comfortable again with doing the things we once did without even thinking, like eating at restaurants, going out shopping, and seeing our loved ones.
That's great for restaurants who are eager to return to "normal" after 2+ years of uncertainty and limited seating capacity. However, it doesn't mean that we can rest on our laurels–it's important to still remember that everybody's comfort levels will vary.
You know, everyone has a different comfort level. I personally like seeing indicators of 'cleanliness' – signs on the table that it's been cleaned, visibly seeing staff clean a table after someone has left, hand sanitizing station, paper towels and trash cans by bathroom doors so you can have the least amount of 'contact'. A lot has happened in the last year and I don't want to see restaurants abandon the visible habits that make me and other guests more at ease.
While the Centers for Disease Control have long discouraged the practice of "hygiene theater," there is something to be said about providing consumers with transparency about the food handling and space cleaning practices a business follows.3 That was true in 2020, and it remains true now.
When it comes to creating safe, healthy, and welcoming spaces, there is no such thing as too much action or communication. Not only will it help maintain stellar food safety practices, but it also promotes good customer service and an ambiance that makes people want to come back.
The Top 5 Lessons Learned About Safe Dining During COVID-19
As anybody who has worked in foodservice knows, it's safe to say that COVID-19 really uprooted the way we work, play, and especially the way we do business. While few of us would say that the experience was fun, the reality is that we did learn some valuable lessons that can be carried forth into the way we do business now, in 2023, and beyond.
Here are a few key takeaways.
1. Outdoor Dining and Takeout Should Be an Option
Outdoor dining offers a safer space for diners to enjoy their meals. Studies have shown that dining outdoors as opposed to indoors significantly decreases the risk of infection transmission.4
With proper spacing between tables and even heat lamps for cooler seasons, outdoor dining can be a safe and comfortable option for diners. With the creativity of restaurant owners, outdoor dining spaces have the potential to become a key selling point for establishments, whether through rooftop seating or charming garden spaces.
Takeout, on the other hand, also provides a win-win situation for both diners and establishments.
With takeout, customers have the option to enjoy their meals in the comfort of their own homes while still supporting their favorite restaurants.
For establishments, takeout offers a convenient, low-contact, and cost-effective way to continue serving their customers. Offering takeout also increases accessibility to your establishment, allowing diners who may not be able to dine in due to health concerns or accessibility issues to enjoy your restaurant still.
The pandemic aside, there are several reasons to continue incorporating outdoor dining and takeout options. Not only are they still safer options, but they cater to an increasingly busy and convenience-driven demographic.
Offering outdoor dining and takeout provides customers with the ability to enjoy restaurant-quality meals without sacrificing their time or comfort. Offering these options also results in scalability improvement for establishments.
When the volume of dine-in customers is high, offering takeout makes it easier for kitchen staff to manage the load while still catering to customers who don't have time for a sit-down experience.
2. Good Air Circulation and Ventilation Really Matters
As people largely stayed home at the start of the pandemic, there was a lot of confusion about how to go about our daily lives while also staying safe.
The Centers for Disease Control and Prevention (CDC) initially focused on surfaces and hand hygiene, but as the year went on, it became clear that air circulation was also a major factor in preventing the spread of the virus.
This led to a renewed interest in HVAC (heating, ventilation, and air conditioning) systems, and it's now well-established that proper ventilation can help reduce transmission of the virus in enclosed spaces.
Now, it's still more important than ever to ensure that your HVAC systems are working properly. If your restaurant or foodservice operation has a central air system, consider upgrading to include air filters with a higher Minimum Efficiency Reporting Value (MERV), as these can capture more small particles that could be carrying Covid-19 and other germs.
In addition to this, opening doors and windows can also help increase air circulation and reduce the concentration of viral particles in the air.
Ventilation should also be taken into account when considering where to place tables-for example, it's better to sit people near windows and doors that can be opened, rather than in the center of a large room with no airflow.
3. Sanitation and Food Safety Should Be Paramount
One of the lessons learned during the pandemic is the importance of frequent hand washing and sanitizing. It starts with training team members to wash their hands correctly and as frequently as possible.
Hand sanitizing is an excellent option when hand washing is not a possible solution. Having hand sanitizer readily available, as well as stocking up on cleaning supplies, can create a safer environment for both staff members and customers.
By the same token, cleaning, disinfecting, and sanitizing commercial equipment should not be an afterthought. It should be done before and after each use, especially during these times. Having a strict cleaning protocol can minimize the risk of the spread of viruses and bacteria.
And most importantly, we learned that during the pandemic, establishments should implement measures to prevent cross-contamination. These measures might include everything from temperature checks for food inventory to proper storage and even the proper handling of food to avoid cross-contamination.
4. Contactless Payment, Reservation Systems, and Ordering Options Are All Great Tools
When the pandemic first hit, one of the immediate changes restaurants had to make was reducing physical contact between staff and customers. This gave rise to contactless payment options, such as mobile payments, online payments, and "tap and go" cards, which not only reduced contact but also helped to facilitate faster service.
These options have become popular and have since been adopted by many restaurants and cafes. Even now, contactless payments can be a convenient option that allows customers to pay faster and reduces the burden on staff to manage cash transactions.
But these "remote" transactions weren't the only ways we had to evolve. Due to social distancing restrictions, many restaurants had to restrict the number of customers that could be seated at once. This is where the importance of reservation systems was felt.
This allowed restaurants to better manage customer expectations, especially during peak times that would typically be crowded. Using software that allows customers to reserve their tables online can save time and effort for both customers and restaurant staff, streamlining the process.
As an alternative to traditional physical menus, digital menus or options for online ordering have also become a popular option for many restaurants. Not only are they more hygienic, but they are also more customizable and can offer additional functionality for customers. In many cases, switching to digital menus can also save restaurants a significant amount of money.
Digital menus can be updated quickly, include images of menu items, allow for easier customization, and can be accessed by customers on their mobile devices. All of these features can help restaurants improve the customer experience while reducing unnecessary contact with staff.
5. Good Communication is Key
With so many unknowns and rapidly changing guidelines during the pandemic, clear and simple messaging was essential. Guests needed to know what safety measures were in place and what was expected of them, while staff needed to feel secure in their training and the protocols put in place by the establishment. Communication was key for making everyone feel informed and heard.
And today, that's still true. The pandemic showed us that protocols and guidelines could change in the blink of an eye, so it's important to keep everybody up to date-and properly trained. That way, changes, and small adjustments can be made promptly and without shaking up the status quo too much.
The Takeaway
Ultimately, the need for sanitation and cleanliness has not changed. Even as we move into the second half of 2023, nearly three years since restaurants first shuttered their doors due to the 2020 pandemic, the food service industry is still working hard to find its footing.
We shouldn't forget everything we learned in 2020. Instead, the lessons learned should continue to disrupt "normal" business operations in pursuit of a new definition of safety.
That definition includes food handling practices, environmental considerations, and mutual respect across all interpersonal interactions.
With that knowledge in mind, we can all move forward into a safer, happier, and more productive 2023 and beyond.
Editor's Note: This post was originally published in September 2021 and has been updated for accuracy and to provide foodservice professionals with additional insights.
References: