Over the last several years, there has been a dramatic shift in how people perceive the foodservice industry. After customers flocked towards take-out options and at-home cooking in 2020, some trend-watchers started to believe that the days of dining at restaurants were fading away. However, Restaurant Dive puts it perfectly: the on-premise experience isn't dying — it's evolving.

Thankfully the changing perception of the foodservice industry has also impacted how workers are perceived. Slowly, but surely, the idea that foodservice jobs are for teenagers just starting out in the workforce has faded and more people are viewing the industry as a true profession deserving of respect.

Whether you're thinking about joining the foodservice industry for the first time, rejoining the ranks after a break, or feeling stuck in your current position, there are many ways to approach a career in foodservice. And thankfully the fast-paced nature of the industry allows you to experiment with different responsibilities and explore new opportunities.

Let's look at some of the pathways towards career advancement in the foodservice industry.
Getting Started: Entry-Level Positions
There are quite a few different positions to choose from when you're just getting started in the foodservice industry. Here are a few different responsibilities required for each position:
Host/Hostess
Hosts have the all-important responsibility of making a good first impression on customers. Hosting requires a chipper attitude for greeting guests, organization for managing reservations and seatings, and patience in order to maintain exceptional customer service.
Busser
Bussers are responsible for clearing dirty dishes from tables and making sure the front-of-house stays clean. Bussing tables requires efficiency because it impacts the customer experience as well as the ability to seat new customers. It also requires quick reflexes in order to prevent collisions and spills, as well as speedily clean up any messes on the floor.
Server
Servers have many responsibilities, but the most important is tending to the immediate needs of the customer. Serving requires time management, attentiveness and proper communication skills – not to mention heroic levels of multitasking.
Back of House/Expo/Line Cook
Back-of-house workers are responsible for preparing food and keeping the kitchen clean and safe. Back-of-house employees are equally as important for keeping the restaurant sanitary and running smoothly.

Outside of the restaurant setting, you can find entry-level work in foodservice as a Cafeteria Associate at a hospital or health system, a Food Service Assistant at a high school or university, or a Food Service Attendant at an assisted living facility.
Moving Up: Intermediate Level Positions
In a traditional restaurant, fast casual, or quick-service restaurant business the next step up typically involves taking on more responsibility and, in some cases, some additional training or certifications.
Shift Leader/Floor Leader
The titles of these positions vary by organization, but the responsibilities are pretty similar. Shift leaders are responsible for supporting their teammates, helping managers train new employees, and making sure that particular shift's side-work, prep, and/or additional cleaning has been completed. Managers also count on leads to help set an example for best practices when it comes to food safety, food allergy policies, and customer service.
Bartender
Bartenders have a highly specialized skill set and many states require additional safety training for people who step behind the bar. If you're interested in becoming a bartender, let your manager know that this is a goal and start researching what your city, county, and state requirements are. Many front-of-house and back-of-house employees already have parts of the drink menu memorized from their time spent with the company so far, so it actually saves the business some time and money to help you along your journey!

It is important to note that many of the mid-level roles that exist outside of the restaurant industry require some more specific training or education. If you're looking for a mid-level foodservice position outside of the restaurant, you may want to consider a lateral move to another entry-level position in your desired setting and then ask your managers what the best course of action would be to reach your goals.
Going All In: Management Positions
Let's say you've been in the industry for awhile and you're looking for a new challenge. You know how a well-run restaurant SHOULD operate on the day-to-day and you want to help make things run more smoothly for the business you work for. These are some pretty clear signs you are ready to move on up the ladder into management. But what does that look like?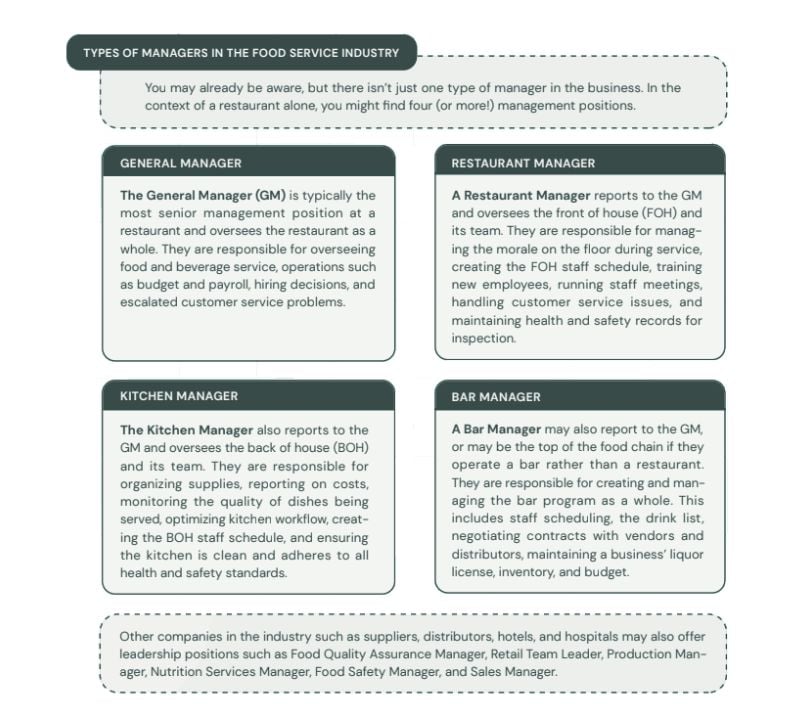 You might be asking, how do I get to one of these management positions?
If you're an industry veteran, you already know how the day-to-day should run. Taking on the responsibilities of a shift lead is a great first step, but you should also make it known to your current manager that you're interested in becoming a manager down the line. Start paying attention to the opening and closing procedures, as well as the questions you hear your current manager asking of you and your teammates.

You can also get started by investing in continuing education for yourself with a Food Allergy Certificate or by volunteering at a local soup kitchen, nursing home, or food bank. Continuing education advances your own personal knowledge, but it also shows your boss that you're serious about taking on more responsibility at work. It is also worth it to start investigating what your state training requirements are for managers.
As you can see, the foodservice industry is just as complex a network of positions as any other industry. If you're looking to advance, but none of the roles we've talked about in this article are available, don't stress! This article contains an overview of SOME the options. Try to remember that communication will always be key to your success and talk to your manager. Make it known that you're looking to make moves to advance your career – that way you are top of mind the next time an opportunity arises. No matter where you start or where you're going, you have options!