Restaurants have been weathering incredible challenges throughout 2020 and now that dine in service is becoming available across the country, businesses must take into consideration the comfort of the dining experiences of their patrons.
Social distancing and enhanced cleaning protocols may mean fewer seats are available for service and that restaurants are requiring reservations, instituting time limits, or both. Changes in employee shifts means risk assessment, temperature checks and changes to staff PPE. All of these adjustments mean that the experience of dining out IS different - there is no getting around that fact. We've heard from restaurants in the Trust20 network that guests have generally been understanding and supportive, however that may not always be the case.


We recently stumbled across Chicago restaurant Hopleaf's post on Facebook addressing one such unhappy customer and we applaud the owners for responding in such a thorough and measured manner. They first remind their patrons that the mask requirement is a legal mandate from the City of Chicago that is strictly enforced with stiff penalties.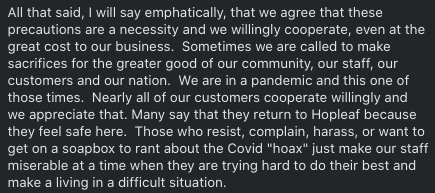 It is particularly admirable that this business acknowledges that we are living in a time where we have to make sacrifices that support the greater good of our community, and world. Not only have they taken measures to create a clean and socially distanced environment, but they have also made a point of clearly communicating about their efforts with their diners. When the City of Chicago allowed restaurants to open to 40% capacity on October 1, Hopleaf provided an update on their social media to keep their community informed of the specific actions the business is taking to protect them.
The bottom line is that every diner you encounter is going to have an opinion and not all of them will even try to be kind nor compassionate. Creating better restaurants and safer spaces is a continuous practice - not a destination. Restaurant owners and employees should remain confident in their decisions to enforce mask mandates and social distancing guidelines. Not only because they are following the law, but also because they are positively impacting the world by protecting both themselves and their diners.
Read Hopleaf's full response HERE and their latest social distancing update HERE.